Apartment management in Balchik,Varna.Apartment property management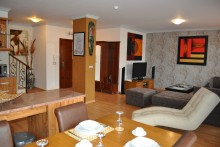 This
apartment management
package has the simple goal of providing the explicit range of
property management
services, which an apartment might need.
It has been specially designed to suit the particular need of an apartment property, excluding the care for garden, swimming pool and common areas.
Our team is here to assist you in any matter you could possibly think of, with regard to your
apartment management.
What we offer is a round the clock service, quick and professional answers to all your requests, monthly checks of the apartment, dealing with your utility bills and etc. – in short – we offer you high quality
property management
of your apartment and carefree days for yourself.
Comprehensive list of our
apartment maintenance
services could be found below:
Key holding – At least one set of keys is to be provided from the owner to Property care team in order to have independent access to the apartment. Upon requests we are to arrange the apartment to be opened for any situations, such as owner's guests, furnishing companies delivery, appliances checkups by relevant companies and others.
Documents holding – that including all documentation, receipts, invoices, warranties and others in connection with the apartment we manage.
Inventory list preparation (if not provided by the owner) and regular checks according to the inventory list.
Communication with neighbours – A good relation with the neighbours is always important, even more for properties, which are not occupied permanently.
Communication with the apartment complex management company and payment of annual maintenance fee – If the complex is managed by another company, different then Property Care, we will keep the information between you and the maintenance company smoothly flowing. We are to arrange all payments due for the complex maintenance, as well as if authorized by you; we would represent you in front of the General Meeting of the owners.
Representation of the property owner before third parties (electricity, water, cable TV, security companies and etc.) - We will be always at a phone call away from all your services providers. Whether a security alarm has been turned off or the water supply company needs to read your water meter, we will communicate with them on your behalf and arrange property visits if required.
Assistance with installation of cable or Sat TV – Most of the properties we manage are only occupied during the summer months and are usually located in villa areas outside towns. That requires a careful research about the available offers from cable and satellite TV providers and their technical ability to offer the service at the respective property location, being that in Balchik, Golden Sand, Varna or other nearby coastal areas. We check and, if required, visit the property with the company's representative for onsite checkup. Then the different options for technical connection and service prices and available contracts are reported to the owner, in order to take his/her decision.
Assistance with Telephone&Internet connection – The situation is quite similar as to that of the Sat and cable TV. Most of the mobile operators do offer internet service, apart from the normal mobile telephone services, however usually with binding contracts of one or two years. In such a case, there would be regular monthly payments, even during the off season months, when the service would be in fact not used. That could sound a bit waste of money, however if the property location does not allow a landline operator to switch your property on to its network, the mobile operators are the only choice for reliable internet and phone service.
Dealing with utility bills – In Bulgaria most utility bills are paid in cash and hardly ever bills are posted to your property address in advance. This requires regular and well managed time schedule for checking and payment of your property bills. Our apartment management service will save you the care for all those coming bills each month and your due payments will be always covered on time and hassle free for yourself.
Arranging payment of annual property and garbage collection tax –Every year around March, each local municipality issues the council taxes and garbage collection fees, which are to be paid by owners of properties within the territory of the respective municipality. Those taxes and fees vary among the different municipalities and their exact amount is set each calendar year. That requires your due taxes and fees to be checked each year and then paid on time. If the payment schedule is not complied with, there are daily interests to be applied, which increase your property expenses.
Bookkeeping of the made expenses and sending reports – We will provide you with a regular detailed report of the covered costs concerning your apartment. It is presented in quite a clear form, which will not only give you a one glance look of your monthly property costs, but moreover a sum up view of your total property management costs over a one year period.
Monthly internal and external check and sending pictures with the monthly report. That including:

Airing rooms
Checking for mould, moisture, leaks and other visible defects
Checking electrical system and appliances
Checking water fitting and flushing
Checking for insects and pests

Emergency property check on request of the property owner or because of bad weather conditions
Arranging of maintenance for balcony areas
Looking over furniture
Preparing of apartment equipment list.
Assistance in equipping the apartment – that including assistance in search of proper equipment – such as furnishing, electrical appliances, household items, curtains, shutters, cutlery and etc. We will be there, if any measurements need to be taken, items and appliances delivered and mounted.
Arranging apartment cleaning and laundry upon owner's request – Certainly it feels always good to enter a spotless clean flat, despite being empty for months. We will organize your holiday apartment cleaning, put freshly washed bed linen and towels, turn on the boilers, fill in your fridge with basic goods, so even if you arrive with a late night flight at 2 am, you would still feel cozy and at home.
Arranging check up of your air conditioners
Arranging minor repairs by request of the owner
Arranging apartment insurance
Preparation of the apartment for the winter season – At the end of October, beginning of November the main water supply at your holiday apartment is to be turned off, water pipes, boiler all emptied in order to prevent freezing during the sub-zero temperatures in the winter months.
Start of season preparation of the apartment – Towards beginning of the warm season, usually end of March/beginning of April our property management team starts to prepare your holiday apartment for occupation. First and main task is to assess whether there are some winter caused damages, which need attention. A full list of the noted issues in the apartment is prepared and sent to you, and then if you would like those damages to be taken care of, we will prepare an offer for the repair works with exact prices and deadlines for work accomplishment. Your water supply is turned back on, boilers filled in and the whole water system checked for leaks.
Upon request we also organize a thorough start of season
cleaning
of your property, including window cleaning, laundry of curtains, bed covers, blankets and duvets, rugs and carpets, pillows (if type of filling allows).
Check our portfolio of
selected holiday apartments
in
Balchik, Varna
areas, managed by Property care.