Furnishing services in Balchik, Varna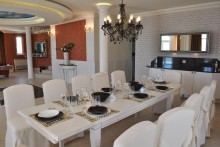 You have finally bought or just saw completed your dream
holiday property
and now it comes the time to make from those empty walls and rooms a home.
A badly furnished property can ruin a property's appeal. That is why we have teamed up with the area's leading furniture suppliers and interior designers who will consider every detail of your customized
furnishing
project, all through to the finishing touches, revealing your property true potential and genuine character.
First and foremost is hearing our client's wishes, visions and dreams for the looks and appeal of their property. We and our interior designers take pride in delivering completely individual design to each property, considering the both functional and beautiful aspects of your customized furniture design and always understating the property luxury and elegance through its
furnishing
.
Our
property management
team, together with the interior designer accompanies you from the very draft of the furnishing project up to its completion.
Furnishing of brand new property
The whole process starts with hearing your wishes, assessing your expectations and budget and then visiting your property.
For newly built houses the architect plans are more than enough for the initial interior design, which saves you plenty of time, as the interior design in such a case could be prepared long before the property completion and the majority of furniture ready and steady for mounting immediately after construction has finished.
If the property is already built, we arrange a free of charge visit to your property, with taking all required measurements, if differed from the initial architect plan, or if there is no such at all.
Then an interior design plan is presented with detailed information and quotation for all offered items. After the general view of the furniture and property style is agreed on, you with the assistance of the interior designer could start picking up colors, textures, finishing touches and etc.
A time schedule for delivery is set and the work on your home's cozy and elegant view is started.
Ordering separate furniture items
Of course, not each client of ours comes with an empty and awaiting
furnishing
property. The majority of clients have purchased and furnished their properties, before realizing the need of
property management
services.
Then of course after few years of use some not that quality furniture damages, a need of additional furniture shows or just the taste of the owners changes.
Our
property management
team would assist you in any furniture matter of such event.
We would assist you in choosing a better replacement for your damaged furniture or in purchasing brand new furniture for your property. In
Balchik, Varna and Dobrich
there are number of furniture shops, which have quite a good choice of displayed furniture, which could be immediately delivered. We could take a stroll around those shops in
Varna, Balchik and Dobrich
, select and purchase the required furniture on your behalf. Of course, if you enjoy shopping, we could also accompany you in your most suitable furniture search.
Just
contact us
for further information or assistance on the matter.