House cleaning in Balchik,Varna, apartment cleaning.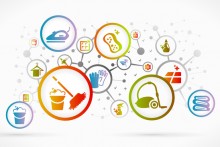 Cleaning and laundry
is daily, but very essential service, which we provide to our clients. We could arrange the best
cleaning
solutions for your
holiday property
, regardless of the type of engagement – one off seasonal cleaning or regular cleaning schedule over the season.
It feels always good to enter a spotless clean property, despite being empty for months. We will organize your
holiday home cleaning
, put freshly washed bed linen and towels, turn on the boilers, fill in your fridge with basic goods, so even if you arrive with a late night flight at 2 am, you would still feel cozy and at home.
Here is a general list of our regular cleaning service practices:
Gathering the already used bed linen and towels and making an inventory list for their type and quantity.
Delivery and afterwards collection of the washed laundry to a professional laundry service company.
Setting up beds with clean bed linen and set of towels, placing bed covers and quilts
Cleaning the floors in the entire property with vacuum cleaner and/or mop depending on the type of floor surface.
Checking and cleaning of any spider nets.
Sweeping the dust from all furniture surfaces.
Sweeping and cleaning the balcony areas, verandas and around the garden furniture and swimming pool area, if such.
Washing of all plastic chairs, table on the balconies, verandas, as well as the garden furniture around the swimming pool, if such.
Cleaning of all windows and window displays in all rooms of the property.
Sanitation and thorough cleaning of every toilet and bathroom in the property – fiancé, sanitary units, mirrors, bathroom accessories.
Setting up each bathroom with toilet paper and if afore agreed with the owner with soups, shampoos and shower gels, all purchased at his expense.
Washing, drying and arranging all kitchen dishes, cutlery and others. Cleaning of the kitchen appliances – oven, hotplates, toaster, coffee machine, el. cattle, fridge, laundry machine, dishwasher and others.
Cleaning of the main property entrance
Throwing away all trash from the property – from kitchen, bathroom, garden garbage and etc.
Placing new sanitary bags in all garbage baskets, on the expense of the owner.
A thorough
start of season cleaning
of your property, including also:
window cleaning
shutters and blinds cleaning
laundry of curtains
laundry of bed covers
laundry of blankets and duvets
laundry of rugs and carpets
laundry of pillows (if type of filling allows)
Each particular property has individual
cleaning
needs, types of property content, size of the property and different location, so do
contact us
for further details about your customized cleaning offer.